Paid Addons Support Forum Only
Please note, that here we only support Paid Addons issues and questions.
gVectors Support staff works from 6am to 6pm (GMT+0)
All questions related to wpForo and wpDiscuz free plugins should be asked in the corresponding plugin support forum:
Translation of phrase "recent posts"
Hello
I just did some translations with wpforo (forums-phrases). Everything worked fine, but I just cannot find the phrase "recent posts". It appears her in the forum frontend: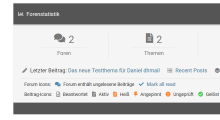 I cannot find both of them in "forums-phrases" and therefore I cannot translate them.
Where can I find this phrases so that I can translate them?
Thanks for your help.
Best Regards
Daniel
Hi Daniel,
If you can't find some phrase you can add it using [Add new] button.
Please don't forget to delete phrase cache in Dashboard > Forums > Dashboard admin page.
For further support please use the wpForo community. Here we mostly support paid addons.