Paid Addons Support Forum Only
Please note, that here we only support Paid Addons issues and questions.
gVectors Support staff works from 6am to 6pm (GMT+0)
All questions related to wpForo and wpDiscuz free plugins should be asked in the corresponding plugin support forum:
First and Last Name
Still looking for help on this...
Frustration, I purchase your products and I'm not receiving the level of support paid for. Premium support is 12-24 hour response and it's days if at all between responses. 
Hi @william-cramer,
I'm sorry but this addon is not designed to use it with WordPress default "First name" and "Last name" fields, it's already explained in Astghik's post here: https://gvectors.com/forum/wpforo-user-custom-fields/first-and-last-name/#post-18248
She has replied you about one week ago. The First name and Last name fields created in wpForo Users Custom Fields addon has no any relation to WordPress First name and Last name fields. they cannot be pulled through addon custom fields, because they are stored in different place in database.
You should ignore WordPress First and last names and use wpForo User Custom Fields data. You can see those Names in forum Front-end > My Profile Page.
Step 1: Make sure you've created First and Last name fields for Account page or for Registration page:

Step 2: Add those fields in User Profile page, so you can see users First and Last names directly on Forum front-end > User Profile page (not in Dashboard):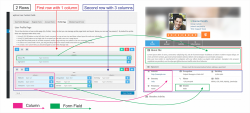 Okay, her explanation didn't make since thus why I continued to ask questions that were left unanswered! 
It's bazaar to think that you can manipulate the username, the nickname, the display name but not the first and last. 
It critical for me to be able to see my forum members who are my customers in a meaningful manner in either the wp Users or wpForo Forum> members by a first and last name. 
Is there a way to achieve this?
Thank you
William