Paid Addons Support Forum Only
Please note, that here we only support Paid Addons issues and questions.
gVectors Support staff works from 6am to 6pm (GMT+0)
All questions related to wpForo and wpDiscuz free plugins should be asked in the corresponding plugin support forum:
[Solved]

Anonymous comments
Hi!
I´ve trying to use the WPDiscuz in my blog, but i have a problem.
I´ve read all the instructions to allow anonymous comments in my blog. In "subscription", "comments subscritpion", I set "ok" to Disable subscription confirmation for guests.
In "forms", the name and email fields are with the checkbox "required" disable.
In Wordpress Panel, the option "Author has to fill name and email" is disabled too.
And the plugin ask to a guest to fill name and email...
What must I do?
Thanks! 
Hi @viagemlenta,
All is correct. You've already enabled the Anonymous commenting. wpDicuz doesn't ask for username and email, it just shows the fields. Those are not required, so users can leave those empty. You just need to add appropriate information in field name and description to let your users know about that: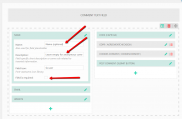 Hi Tom!
Yes! In fact, today is working, although yesterday, when I wrote this message, no.
There may be a delay for the settings to take effect. And I think there really is, because right now, after changing the descriptions, the old site still appears. But I believe they will change soon.
Thank you for your help.