myCRED badges and rank names not showing under avatar
Hi folks,
Having an issue where my rank names and badges for any of my point types will not show under the avatar. I can see when I inspect the code that the div wrappers are there but no images or text.
Everything is setup and the check boxes in the hook section under "Forum Template" are checked. Actually if you try and uncheck these and save they re-check themselves so can never be unchecked! Which makes me think this may be a bug as I cannot see any issues from setup/
Any help much appreciated.
Thanks
Hi Astghik,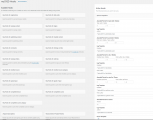 See screenshots, so when you go here: wp-admin/admin.php?page=mycred_mycred_rep-hooks in your admin. That is the hooks page and when you open the wpforo section you will see what I have captured in one of the screenshots, the two check boxes under "Forum Template". You cannot uncheck these and save. They always recheck, so I think that is a bug. The other thing is even though those options are checked the badges are not showing on the front end as per other screenshot.
So essentially two issues. First is the checkboxes are always checked and cannot be unchecked. Second is the mycred badges and titles are not showing in the forum under the avatars as they should.
Does that clarify the issues?
Thanks