Paid Addons Support Forum Only
Please note, that here we only support Paid Addons issues and questions.
gVectors Support staff works from 6am to 6pm (GMT+0)
All questions related to wpForo and wpDiscuz free plugins should be asked in the corresponding plugin support forum:
Youtube video not displaying on Safari browser
Youtube video not showing on Safari desktop view:
https://smallcaps.com.au/forum/commodities/gold-chart-shaping-up-nicely-on-geopolitical-tensions-and-coming-rate-cuts/#post-204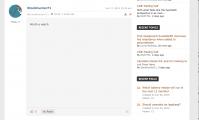 Please follow the steps and let us know how it works:
open the same youtube link on Firefox browser
copy the link from the address bar of the Firefox browser
paste on the post content and check again. 
This is still an issue in Safari on the iPhone, iPad, and Mac. The video works fine in Firefox and Chrome but doesn't display in Safari.