[Solved]

Purchased embed addon. Nothing is working, tried everything
hello, first off I love the forum plugin. Great work.
I bought the embed addon and I've tried everything (disabled all plugins, multiple links from youtube, vimeo, etc.) and nothing will show up.
I saw somewhere in the forum you requested admin access to someones website. Can I give you mine so you can take a look?
Suggestions?
attached is 2 screenshots. One is plugin off and the other is plugin on. I have added two different youtube links and still nothing works.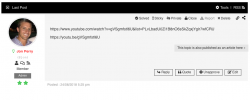 Hi @brooke12,
Thank you For your purchases and for contacting us!
I figured out it is my website theme, but I do not know how to fix from there. I am using TotalPress for wordpress
It'd be better to contact them support. Trey should help you to fix the issue. 
Under firefox developers tools, when I press the "Padding" box it works, but how do I change this permanently, in the theme?
You should add the CSS code in Dashboard > Forums > Settings > Styls > "Custom CSS code" textarea.
Please don't forget to delete all caches, before checking.