Issue while uploading image using Advanced Attachment
Hi jansen613,
All problems come from your Autoptimize plugin. It has minify/optimize option. Please disable all functions and options related to CSS and JS file magnification. In most cases, the auto-minify functions of such plugins disturb other plugin JavaScript functions. We don't recommend to use it. Keep disabled those.
Please check this list:
https://wpforo.com/community/faq/conflicts-with-other-plugins/
Hi @jansen613,
can I integrate discuz with this forum?? I really want that facebook comment look to it. And if not do you have any recommendations? 
I'm sorry, but I don't follow you. Could you please clarify a bit?
And that worked but now on mobile devices i cant attach files 
Please navigate to  Dashboard > Forums > Tools > Antispam admin page, decrease the Min number of posts to be able attach files level to 0 and check again.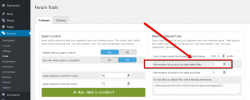 Also please make sure the "Can attach file" permission is enabled for current  Forum Access in Dashboard > Forums > Settings > Forum Accesses admin page.