Paid Addons Support Forum Only
Please note, that here we only support Paid Addons issues and questions.
gVectors Support staff works from 6am to 6pm (GMT+0)
All questions related to wpForo and wpDiscuz free plugins should be asked in the corresponding plugin support forum:
Can't make private thread public
I made a thread private but can't set it back to the public. Clicking on the crossed-eye icon is supposed to but it didn't work. 
Hi @itlr,
Just click on the button. That's it. You can refresh it to update the title and remove the [Private] prefix like this: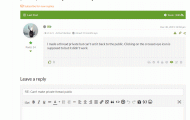 Thanks, but I don't see that icon below the private thread. I am talking about wpDiscuz Private Comment. 
Dude, I was talking about wpDiscuz Private Comment Addon, NOT related to your forum plugin.