I can't activate and install my plugins
Hello,
I just bought 4 plugins. 
Polls / Mycreed / Private message / custom field
When I try, I have this error :
Something went wrong: cURL error 28: connect() timed out!
I'm admin on my website, and try to active it online. 
And for mycred integration, When I upload file, I install it and i have an error myCred plugin is not installed! and Activate wpForo - myCRED Integration plugin ! 
For other plugin, I can personalize it, but for mycrew, I can't.
Can you help me please ?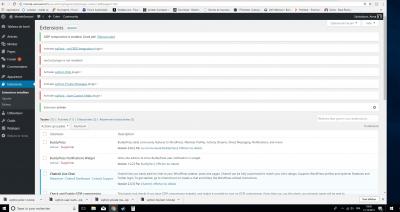 For the wpForo  - myCRED Integration addon you should install myCRED plugin before installing wpForo  - myCRED Integration addon. This addon is an integration solution between wpForo and myCRED.
Please install myCRED plugin in Dashboard > Plugins admin page. Just search for myCRED. The plugin page is this: https://wordpress.org/plugins/mycred/
Regarding to "Something went wrong: cURL error 28: connect() timed out!"
We just checked and didn't find any problem with plugins and addons. This is a server side issue. It blocks remote server requests and doesn't allow to activate plugins. You should contact to hosting service support and let them know about this issue. Here are the reasons:
I would recommend you to ensure that your site meet actual requirements for secure connections. Your server must be able to perform connections using SHA-2 and TLS 1.2, as this is required for third-party services as PayPal, Stripe, Authorize.net and many others that are using the HTTPS protocol to ensure privacy in connections to their services. So make a favor to yourself and ensure that your site is hosted on a server with at least cURL version 7.34.0 or higher, OpenSSL/1.0.1 or higher (another library) and also a recent version of PHP, currently 7.0 is the recommended choice.
If you already checked that you're running the recent versions mentioned above. Other common causes at server side for this error are:
Plugin conflict, we recommend deactivate all plugins (excerpt the addon and wpForo) and try to activate it again.
Issues with the DNS resolving (your server is not able to resolve the IP for the third-party domain or at least not in time).
Firewalls or security modules (e.g. mod_security ) blocking the outgoing request.
Your host is not able to "talk" with the third-party server due to unavailable required protocols. This can occur if the server has a recent cURL/OpenSSL but it's not correctly configured to use TLS 1.2 as SSL procotol.
Network issues (something at network level prevents your server to reach the third-party server).
I try to unactive all plugins, and nothing.
I try to change admin and nothing
I put off my firewall, and nothing.
I put off the website firewall and nothing.
I try with another computer and another IP, and nothing
I put on my SSL Protocol on my website, and nothing. 
I already bought 2 plugins, Embed and attachement. Ant I succeced to active it, so why now not ?
Have you changed the hosting service or something in server configuration? Could you please ask hosting service to check this issue. In most case server blocks remote connection to gvectors.com domain. Just ask them to check if gvectors.com domain is not blocked by your server, addons try to connect gvectors.com remotely and activate keys, but something stops this connection.