Paid Addons Support Forum Only
Please note, that here we only support Paid Addons issues and questions.
gVectors Support staff works from 6am to 6pm (GMT+0)
All questions related to wpForo and wpDiscuz free plugins should be asked in the corresponding plugin support forum:
[Solved]

wpDiscuz not fully loading?
Topic starter
27/10/2019 10:38 pm
good afternoon! 
i'm using a combination of snippets/shortcode and elementor to try putting wpDiscuz below my posts. the box doesn't appear to be fully loading on the actual webpage, though. in the editor, it seems to have all the buttons (the bold, italics, etc AND the submit button). on the website, itself, it just looks like the attached image. 
is there an option i'm missing? i've gone through the troubleshooting page and double-checked with my theme support to ensure they had the comment_template code. any help would be appreciated!
thank you!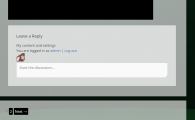 Hi @hannerdoodle,
if you have a cache plugins, please delete those plugins cache. Press CTRL+F5 (twice) on the frontend.
Also if you have other comment plugins please deactivate those too. You can't use two different comment systems together.
If the issue still exist, please leave the example URL to allow us to check the issue.
Topic starter
28/10/2019 2:54 pm
good morning! i think i've deleted the cache for everything, i even deleted it from my browser, itself, and i don't think any other comment plugins are active. i de-activated jetpack's commenting (jetpack is still active so let me know if i need to get rid of that, too) and i'm not using any commenting related things from elementor. it doesn't look like anything has changed. 
please let me know if anything else is needed. thank you so much!
Topic starter
28/10/2019 3:36 pm
i just went through the jetpack de-bugger and it still doesn't look like much of anything has changed. i've used ctrl+F5 and ctrl+R to delete the cache on the website. 
It seems you there is a plugin conflict.
Please deactivate the plugins one by one and check after each deactivation to find the issue maker one.
Don't forget to delete all caches and press CTRL+F5 (twice) on the frontend each time before checking.
Topic starter
28/10/2019 4:18 pm
i disabled everything except wpDiscuz, cleared the cache and ctrl+F5 refreshed twice. since i deactivated "code snippets" the whole comment box disappeared (since i was using a shortcode to put it there), and once i re-activated the main plug-ins i needed (elementor/elementor pro, generatepress prenium and snippets) it looks like we're right back on square one. nothing's changed yet. 
i'm using the purge all option for cache clearing, is that correct?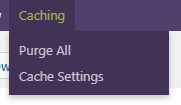 This is something specific on your website.  Could you please send the admin login details to
info[at]gvectors.com email address to allow us to check the issue.
Also please re-enable all your deactivated plugins (that's very important).
One of the active plugins doesn't allow wpDiscuz CSS/JS  files to be loaded. You should deactivate the plugins one by one to find the problem maker. 
Don't forget to delete all caches each time before checking.
Topic starter
29/10/2019 8:31 pm
hi! okay, i've tried this--each plugin, one at a time--and still nothing seems to have changed. i also went to the "site health" section of wordpress and made sure to update things, made my site a https, and updated the php. i don't know what i might be missing. 
Topic starter
31/10/2019 3:26 pm
@astghik
thank you so much!!