[Solved]

(Help) Impossible to show comments + breaking site
Hello everyone,
Sorry in advance for my english, im french. I have a huge problem since i installed wpdiscuz :
— I simply can't see any comment when the plugin is activated, and it breaks my site as you can see in the link i posted. I tried several themes, it's always the same result. I tried every option on/off, nothing to do, it simply doesn't work.
I post an example of what it does when you click on an article (the welcome page works normally) –> http://ijbine-football.fr/pes-2020-avenement-ou-immense-deception/
I'm so frustrated… As far as i know, WpDiscuz is the only plugin that allows to show peoples/members real avatars and not the awful Gravatar system, thanks to the integration of UltimateMember. Am I Right on this point ? Can members comment with the profil pictures they put on UltimateMember (or other plug) ?
Thank you very much.
Hi @ijbinefootball,
This kind of problem is usually caused by either a conflict with your theme or with other plugins. 
We will be able to help you if you provide us the admin login details. Please send the admin login details to info[at]gvectors.com email address to allow us to check the issue. 
This post was modified 5 months ago by
Astghik
Thanks for your quick response. I send you the admin infos to info@gvectrs.com as you asked, thanks a lot !
Glad to hear that the issue is solved @ijbinefootball,
However, I see the Jetpack Comments on your website. Please note, you can't use two different comment system together. You should keep activated whether wpDiscuz or Jetpack Comments.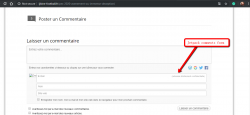 More info in this support topic: https://gvectors.com/forum/how-to-and-troubleshooting/reply-button-doesnt-work/#post-14819