Paid Addons Support Forum Only
Please note, that here we only support Paid Addons issues and questions.
gVectors Support staff works from 6am to 6pm (GMT+0)
All questions related to wpForo and wpDiscuz free plugins should be asked in the corresponding plugin support forum:
Topic starter
15/07/2019 2:33 pm
Hello,
I hope i am not annoying, but i have a suggestion, or an idea for better profile pages. I would be glad, if you could look at the pictures I have attached and maybe implement them in some future versions. Of course I would pay for it, if you would implement this idea by an addon or something similar. But it is, as I said, only a proposal that I would be very happy to implement.

Regards,
Bastbra
Files: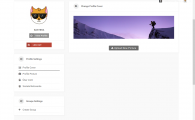 To tell the truth within next few month will fully upgrade wpForo profile system, we're currently working on profile pages layout and design. It'll be totally redesigned soon. You'll not need other Profile plugins for creating membership websites. The profile part will have all necessary functions and features, even more.
Topic starter
15/07/2019 9:01 pm
Sounds great! 😀 Hope it will be released fast!
Topic starter
23/07/2019 2:31 pm
One question for this new update: Will there be groups, followers and friends in this version? It's very important for me.
Regards,
Bastbra