Paid Addons Support Forum Only
Please note, that here we only support Paid Addons issues and questions.
gVectors Support staff works from 6am to 6pm (GMT+0)
All questions related to wpForo and wpDiscuz free plugins should be asked in the corresponding plugin support forum:
Active Topic view count not correct
Hi @gary-mcdaniel,
Please note all questions related to the wpForo free plugin should be asked in the wpForo.com support forum. Here we only support the wpForo paid add-ons.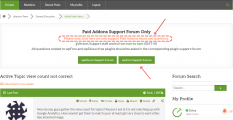 Posted : 20/06/2020 10:43 am