Description
Main 6 Colors Emoticons Pack
With this addon you get a unique emoticons packs with six different colors to fit your forum theme primary color. This pack includes 80 emoticons per color. By default only one color is active and we enabled most used 45 emoticons. You can navigate to Dashboard > Forums > Settings > Addons Tab > Emoticons Sub-tab, find the active color group and enable other inactive emoticons.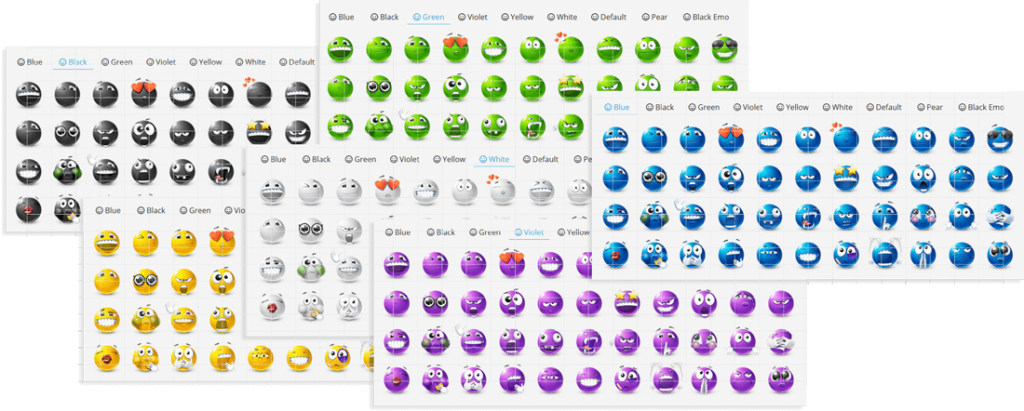 Default Emoticons Pack
Default Emoticons pack is made by gVectors Team. This is an exclusive emoticons pack and only available in gVectors Team plugins. it's close to Emoji, but with more expression of emotions and with nice unique design.

Nice Green Pear Pack

Funny Black Emo Pack

wpForo Emoticons Features
wpForo Emoticons addon adds Emoticons/Sticker button on bottom right side of post editor. This button opens tabbed emoticons groups. Allows to easy choose and insert those nice emoticons in post content.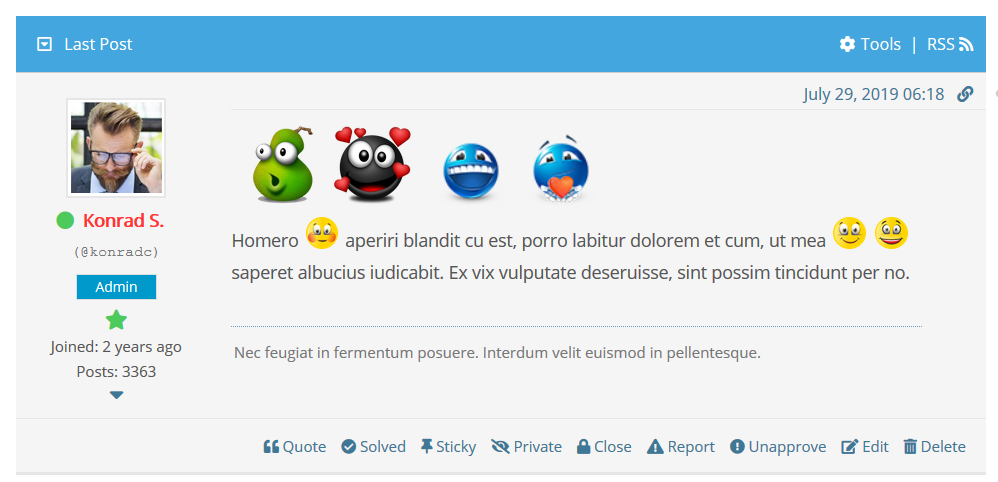 In backend: Dashboard > Forums > Settings > Addons Tab > Emoticons Sub-tab you can manage all emoticons groups. It allows to change group name, emoticons size and hide in front-end post editor.
You can create new Emoticons Groups and add custom emoticons with custom name and code.
In the same admin page you can navigate through Emoticons Group Tabs and manage Group Emoticons one by one. You can change emoticons:
Group (move to other group),
File (change emoticon image)
Emotion Name
Emoticon Code
Emoticons List Order
Enable / Disable certain emoticon
Installation and Configuration
This addon installs like any other plugin for WordPress.
Access to wpForo Emoticons addon is provided immediately once you paid for your order. Upon completing registration/checkout, you may log in at gVectors.com. We will also send you an email after registration/checkout, with a link to the login page. Then download the installation package.
Downloaded addon zip file from gVectors Shop account page
Navigate to Dashboard > Plugins > Add New and upload addon ZIP file, then activate it.
Once the plugin is active, you'll find Emoticons Button on bottom right side of topic/post editor.
Navigate to WordPress Dashboard > Forums > Settings > Addons > Emoticons Tab to manage emoticons groups.
It'll ask you to activate with license key you got via email or in your account page, just insert the key and activate it.
If for some reason you cannot install this plugin using WordPress plugin upload system please do that with this alternative way. Unzip, and then upload the /wpforo-emoticons/ folder to your /wp-content/plugins/ directory using an FTP application like FileZilla; or any other FTP program is fine also. Make sure you have not double /wpforo-emoticons/wpforo-emoticons/ directories nested inside each other, please correct this before you continue. Then in WordPress, go to WordPress Dashboard > Plugins, and then activate the wpForo Emoticons addon.