[Solved]

Protect custom fields
Hi,
I want to protect custom fields with a password from changes so that parents can prevent a child from changing the setting. Can you add such an custom field type?
Example:
password field: xxxxxx (The parents set the password)
checkbox: Child is allowed to play Game 1
checkbox: Child is allowed to play Game 2
Thanks for your help!
Best regards
This topic was modified 3 months ago by
mickdom
Hi. I'm sorry for my bad english. That's why I try to present it again as a picture. I had the idea to implement the authorization system with your "custom fields" and I would like to ask if this is possible. Otherwise, I have to think of something else. I would be happy if I got an answer.
Best regards.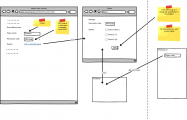 Hi mickdom,
Sorry for the late response.
I'm really sorry, but this cannot be reached using wpForo User Custom Fields add-on. The plugin does not allow to create conditions. You should ask some developer to do this customization for you.