Paid Addons Support Forum Only
Please note, that here we only support Paid Addons issues and questions.
gVectors Support staff works from 6am to 6pm (GMT+0)
All questions related to wpForo and wpDiscuz free plugins should be asked in the corresponding plugin support forum:
Pm from the posts
How can i send PM to somebody from the forum ?
The envelope for PMs ,
 is not there.
Please make sure you're logged in.
Then make sure the "Front - Can write PM" permission is enabled for you and for the person you'd like to send message in Forums > Usergroups admin page.
Make sure the person has reached the minimum number of posts to be able receive and send messages. This setting is located in Forums > Settings > Addons > Private Messages admin page.
If all these ok, you'll see envelop icon.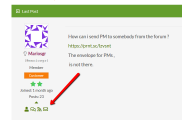 All these are set but envelope is not visible
Must be a bug,
with limit of posts 0 was not visible
but with limit of posts 2 it is visible.
Thank you. Then set it "1".
We'll check this and update in future releases.