Paid Addons Support Forum Only
Please note, that here we only support Paid Addons issues and questions.
gVectors Support staff works from 6am to 6pm (GMT+0)
All questions related to wpForo and wpDiscuz free plugins should be asked in the corresponding plugin support forum:
Registered User cannot see poll
Hi, i have just installed the poll addon and doing a test run. As admin, i can see the poll fine and also if you are NOT logged in.
I have created a second user account as a regular member, but the poll is not showing at all once logged in. Can you please test and let me know:
https://www.fengshuibalanz.com/foru m" target="true"> https://www.fengshuibalanz.com/forum
see screenshot attached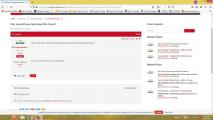 Thanks a lot in advance
Hi @fengshuibalanz,
Please let me know do you see the following poll created by us? 
Hi, yes i can see your poll with my admin and my test account. For some strange reason, the "member" test account still cannot my my initial poll. Would you like to have to user id and password send by private message, so you can check?
Thanks
I just ran a test with a second new member account (no admin). With this account the poll can also not be seen. It seems that for some reason, once an admin creates a poll it cannot be seen, but if a regular member creates a poll it can be seen
Hi, I have changed the "Tech Support" user to Admin for you. Please check