[Solved]

Can I Re-Synchronize Blog Posts
Is there a way to reset the synchronization flag so I can resync my blog posts? When I did the synchronization, the plugin put posts in the wrong places.
Hi @christopher,
Please navigate to the Dashboard > Forums > Settings > Addons > Cross Posting admin page click on "Delete" button.
Then navigate to the forum front page click on the "Tools" button and move the posts on the right forum.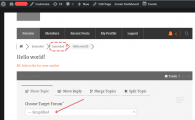 Please don't forget to delete all caches and press CTRL+F5(twice) on the frontend before checking.