Paid Addons Support Forum Only
Please note, that here we only support Paid Addons issues and questions.
gVectors Support staff works from 6am to 6pm (GMT+0)
All questions related to wpForo and wpDiscuz free plugins should be asked in the corresponding plugin support forum:
[Solved]

Can I Re-Synchronize Blog Posts
Is there a way to reset the synchronization flag so I can resync my blog posts? When I did the synchronization, the plugin put posts in the wrong places.
Hi @christopher,
Please navigate to the Dashboard > Forums > Settings > Addons > Cross Posting admin page click on "Delete" button.
Then navigate to the forum front page click on the "Tools" button and move the posts on the right forum.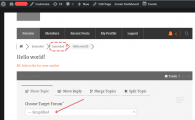 Please don't forget to delete all caches and press CTRL+F5(twice) on the frontend before checking.