Paid Addons Support Forum Only
Please note, that here we only support Paid Addons issues and questions.
gVectors Support staff works from 6am to 6pm (GMT+0)
All questions related to wpForo and wpDiscuz free plugins should be asked in the corresponding plugin support forum:
Threaded Layout New Topic
I'm using the Threaded Layout. When I click ADD TOPIC on the main Forums page (where all forums are listed), I'm not able to add Advanced Attachments. I tried Ctrl-V to paste a screenshot like I normally do and I also tried clicking Attach Files on the bottom, but neither method works.
Both methods work fine when I go into a Forum and click ADD TOPIC, but I'd like to be able to use Advanced Attachments in the first scenario since I think it's a better workflow. Can you fix this?
Hi @tim40,
Please register some new testing user and send the user's login details with your forum URL to info[at]gvectors.com email address to allow us to check the issue. 
Please make sure the user has permission to attach files. 
You can actually experience this on wpforo.com
1. Go here: https://wpforo.com/community
2. Try to create a new Topic and use Ctrl-v to paste a screenshot: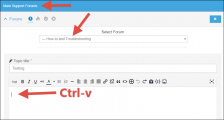 Please update the addon to the latest version (v. 2.0.5) and check again. Please don't forget to delete all caches before checking.