Hi there, 
we are using the latest version of WP Foro. 
We are experiencing problems uploading attachements
We use the advanced attachement plugin. 
Please see video in the link for more info on what happens:
https://drive.google.com/file/d/16bPAsbbWYhg0uZ9asZcfLc_2WsnPEGDx/view?usp=drivesdk
We have WP Foro installed on the main page of a multisite Wordpress install.
Appreciate your hellp with this
Just to add we can see the file uploaded here
Also in the foro attachement page all attachements are visible. Just the links are not working.  See image
Links lead to a URL looking like this https://www.livetube.tv/forum/forofile/1110500a083eb25454d7e597f109430c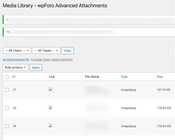 Thanks
Sven