Paid Addons Support Forum Only
Please note, that here we only support Paid Addons issues and questions.
gVectors Support staff works from 6am to 6pm (GMT+0)
All questions related to wpForo and wpDiscuz free plugins should be asked in the corresponding plugin support forum:
[Solved]

Comments must be private on 1 form/page only
Hi there,
My site runs WpDiscuz and WpDiscuz private comments. I will be using it on a few pages across my site but there is 1 page where I need the comments to always be private. So I understand I can create various forms but I don't see the option to always make the comment private on that particular form or page. What would be the best way to go about it? Maybe a code snippet you can provide?
Thanks!!!!
Hi @fmalgrand,
Thank you for using our products and for contacting us.
Please follow the steps below:
The last two options are located in Dashboard > Comments > Settings > Addons > Private Comments admin page.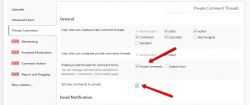 Thank you for your reply. It does work indeed for my form 2 but what if I want my form 1 to be allowed to pick private or public but not be automatically private ? 
Say that for form 1 I want to "Enable private threads for comment forms" but I don't want to "set new comments pivate"
But on my form 2 I want to "Enable private threads for comment forms" and "set new comments pivate".
See the problem is that the "Set new comment to private" cannot be applied to only 1 form.
Any further thoughts ?
Thanks
Macha