Searching ALL comments vs comments on post
Hi Erin,
I see the issue. Please select content in Search Type selector before inserting search word.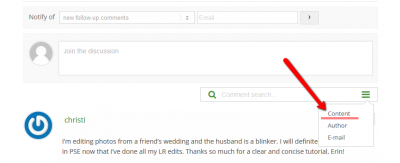 If you want keep this by default please navigate in Dashboard  to Comments > Settings > Addons > Comment Search admin page and set the default field "Content". Save it delete all caches and refresh front-end.

Hi,
I have updated to version 1.1.5 and now the search only looks for me in the comment of the current article.
I have tried in the field "Default search field" with the values ​​"All" and with the value "Content" and in both cases after clearing the cache, it looks for the comment of the current article.
My website is http://organics-magazine.com
How can I configure it to search me in all the comments of my blog and that I also see the search field always and not only when there are comments in the article
Thank you
All options of search are designed for current article, it works correct. The "All" option means it search in Content, Author Name and Emails. This is the mean of "All" option, not for all post comments. The comment search box is located under one post and it does search for this post. If you want to have site-wide search you should use wpDiscuz Comment Search Widget ( Dashboard > Appearance > Widgets )