Paid Addons Support Forum Only
Please note, that here we only support Paid Addons issues and questions.
gVectors Support staff works from 6am to 6pm (GMT+0)
All questions related to wpForo and wpDiscuz free plugins should be asked in the corresponding plugin support forum:
Data are not inserted in reporting comments
I'm having an issue with the comment report & flagging add-on. When flagging a comment the form comes up and you can select an option. When you click "Send" it reports back "Data are not inserted". 
This does not matter if the user is logged in or a guest.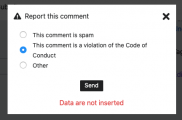 Here is the settings in the plugin itself. I have the most recent version. I have deactivated, uninstalled, and reinstalled. 

You can see this for yourself on this blog post. Try and flag the test comment.
https://diff.wikimedia.org/2020/07/14/welcome-to-diff-a-community-blog-for-the-wikimedia-movement/
I don't see any errors in the console and the message is rather vague. Could you please help troubleshoot?
Hi @communications-wikimedia-foundation,
There is not such an issue on our test websites. This is something specific in your case. Could you please send the admin login details to info[at]gvectors.comn email address? I'll ask the developers to check the issue for you. 
Hello,
Please try again. You may be requested to setup a two-factor authentication method in your profile before being able to edit the site.