Paid Addons Support Forum Only
Please note, that here we only support Paid Addons issues and questions.
gVectors Support staff works from 6am to 6pm (GMT+0)
All questions related to wpForo and wpDiscuz free plugins should be asked in the corresponding plugin support forum:
Advanced Likers "Comment Author Rating and Badge"
"Comment Author Rating and Badge" not working still. I am sorry if I am being stupid but I thought this was supposed to happen automatically.  My users have enough points to advance from "Member" with the green icon to "Active Member" with the gold star but nothing happened.  Can you tell me what I am doing wrong? If there are instructions for that you can let me try to figure it out with that. Something a little more detailed. I hate to be a pain.
Please leave some URL where I can see that user with 50 and more comments doesn't have the orange one.
Same place I gave you an admin account
There is no any user here, all are guests. All comments have been posted as guest so they can not have user reputation and comment count. The user rating system is for users (registered, logged-in), it's not for guests. Guest have no UserID so they can not have archive stat data in database.
I'd recommend disable the User rating badge for first level and change title to Visitor or disable it too.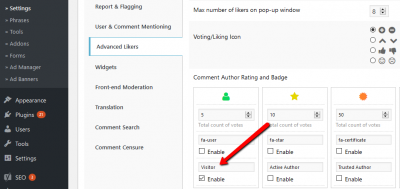 Huh? They are all registered users. Guests can't post. You have to register then wait for me to approve the first post before you can post.