wpForo Ads Manager - Single Site License Renewal
Hi team,
My products are due for renewal but I noticed that my friend received a 20% incentive within his wp dashboard, yet my dash displays no such offer.
Second, in mt Gvectors account, I see that the Ads manager plugin states that the licence never expires unlike the other plugins that I have. (See image)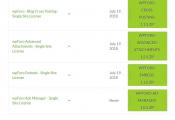 So I would expect that there is no need to renew this product due to non expiry, yet my account seems to indicate a renewal payment is required.
Can you clarify this please? 
Mny thanks,
Posted : 15/08/2018 4:10 pm