Is this error disabling wpforo post views?
At some point in the last two weeks my forum posts stopped appearing. Users had previously seen posts and added, but now when I click on any forum or sub-forum, I get a frame and no post. I do receive an error message:
Fatal error: Call to a member function get_image() on boolean in /home/chisnell/public_html/wp-content/plugins/wpforo-mycred/wpforo-mc.phpon line 248  
This does not always appear, however, so I'm not certain that it's tied to th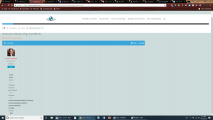 e issue.  
Am I missing a setting or something that is really basic?  Thanks in advance for the assistance!
Please do this change in the core file. Install WP Editor plugin (please don't use WordPress native plugin editor). Navigate to Dashboard > Plugins > Editor. Select wpForo - myCRED Integration plugin,  find and open the wpforo-mycred/wpforo-mc.php file. Find this code (line 247):
if ($badge->level_image !== false)
Change it to this:
if ($badge && $badge->level_image !== false)
Please let us know how it works.