At some point in the last two weeks my forum posts stopped appearing. Users had previously seen posts and added, but now when I click on any forum or sub-forum, I get a frame and no post. I do receive an error message:
Fatal error: Call to a member function get_image() on boolean in /home/chisnell/public_html/wp-content/plugins/wpforo-mycred/wpforo-mc.phpon line 248  
This does not always appear, however, so I'm not certain that it's tied to th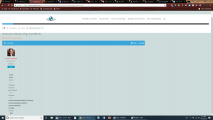 e issue.  
Am I missing a setting or something that is really basic?  Thanks in advance for the assistance!