Paid Addons Support Forum Only
Please note, that here we only support Paid Addons issues and questions.
gVectors Support staff works from 6am to 6pm (GMT+0)
All questions related to wpForo and wpDiscuz free plugins should be asked in the corresponding plugin support forum:
[Closed]

How to get Facebook App ID
Topic starter
13/02/2018 10:32 pm
To start using Facebook share button you should get Facebook App ID to fill it in Dashboard > Comments  > Settings > Comment List admin page Facebook Application ID field.

Please follow to these steps to get Facebook App ID.
Step 1
Login to your Facebook account and go to this page , then click on [Add a New App] button (it may ask for CAPTCHA verification, just fill the letters and numbers displayed on CAPTCH image):

Step 2
Fill App Name and Contact Email address and click on [Create App ID] button.
Step 3
Once App is created, you'll be redirected to the created App dashboard. Click on [Set Up] button of "Facebook Login" section:
Step 4
Choose the Web option (www circle), insert your website URL and save it (don't continue, just follow to the 5th step):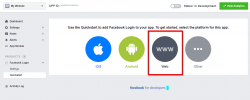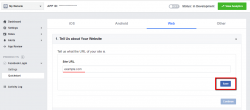 Step 5
Make this APP public. On the left sidebar click on APP Review menu and set this option Yes.
Then on the left sidebar click on Settings Menu and find your App ID. Also please fill your website domain name in according field (marked red) and click on [Save Changes] button:
Step 6
Just fill Facebook Application ID field.

All is done! Now Facebook share option is available.