translation problem
hi 
first i would like to thank you again for this amazing plugin. 
i am havung a problem that even that had enabled the po option and that my site is fully in hebrew
still the front end is showing in english not in hebrew.
can you please help me?
po setting image
files image:
front end image:
Please navigate to Dashboard > Comments > Forms admin page, edit the Default Form and set the correct language code. Then save it and delete all caches.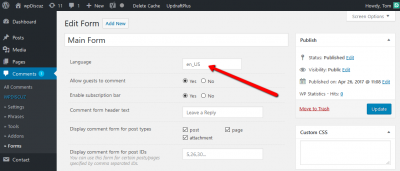 If it doesn't help navigate to Dashboard > Settings (WordPress Settings, not wpDiscuz) admin page and make sure the WP language is set correct.