Paid Addons Support Forum Only
Please note, that here we only support Paid Addons issues and questions.
gVectors Support staff works from 6am to 6pm (GMT+0)
All questions related to wpForo and wpDiscuz free plugins should be asked in the corresponding plugin support forum:
Share icons
Topic starter
25/04/2020 4:47 pm
Hello, I try to delimit the share icons only to Facebook and Twitter. I go to Setting, Social Login, and Share and choose the ones I want. But when I click on Save Changes, it goes back to the General tab without saving the changes I made. I guess there should be a clash with one of my other plugins, but I have only a few installed.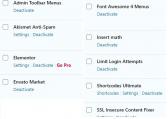 Any idea which one might have caused the problem? or any other idea what is going wrong? 
Many thanks
Amir 
There is no such issue on our test websites. Please send the admin login details to info[at]gvectors.com email address I'll ask the developers to check the issue. 
Topic starter
25/04/2020 5:26 pm
@astghik Thanks, will do. 
When we update our options, that not fully updated. There is some plugin that removes our options from the request, that's the reason that our options don't update.
The most probable plugin that may cause the issue is SSL Insecure Content Fixer plugin. So please deactivate that plugin and check again.
If the issue still exists, please deactivate all plugins one by one and check after each deactivation, to find the problem maker one.
Topic starter
27/04/2020 7:12 pm
No success. In fact, I did it yesterday. I deactivated all (but one), one by one and the problem persists. The one that I did not deactivate was Elementor since it has been used to build all the pages of the website. 
Many thanks 
Amir 
Hi @asghari-amir,
It seems there is a server issue.
Please contact your hosting provider support and let them know about the issue.
Topic starter
29/04/2020 2:14 pm
@elvina I am pretty sure they would say "not our problem" 🙂 But, I will try. 
Thanks