Paid Addons Support Forum Only
Please note, that here we only support Paid Addons issues and questions.
gVectors Support staff works from 6am to 6pm (GMT+0)
All questions related to wpForo and wpDiscuz free plugins should be asked in the corresponding plugin support forum:
[Solved]

Comment is not collapsing after 10 negative feedbacks (thumbs)
Topic starter
25/01/2019 2:19 pm
  Why is the comment nog collapsing after 11 negative feedbacks? here:  https://www.climategate.nl/2019/01/stop-met-doemdenken/ (see also screenshot)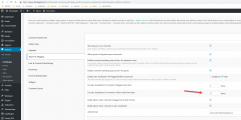 Hi @infober-art-nl,
We don't find such an issue on our test websites. This is a website specific issue. We'll need admin details to find and fix the issue. Could you please send login details to info[at]gvectors.com email address to allow us to check it? 
Topic starter
25/01/2019 2:54 pm
Just done! your usrname is: Info@Gvectors psw is in the mail
Thank you @infober-art-nl,
We've received your email. We're going to check it. I'll update this topic asap.