Paid Addons Support Forum Only
Please note, that here we only support Paid Addons issues and questions.
gVectors Support staff works from 6am to 6pm (GMT+0)
All questions related to wpForo and wpDiscuz free plugins should be asked in the corresponding plugin support forum:
[Solved]

Change the comment label to match roll
Topic starter
23/04/2019 10:31 am
Hi.
The current comment label shows the adminstrator, the athor, etc., and it doesn't seem to change with the user roll.
Users are simply represented as member.
Can we get a comment label to fit the user roll name?
Hi @kwisoo,
Please make sure the caches are deleted.
Also please provide us a little more about the issue. I'd be better if you leave some screenshots and the example URL. 
Topic starter
24/04/2019 3:50 am
Hi.
I want to change the comment label on the screen shot.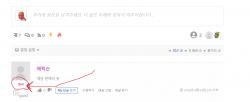 Can this be fitted to the user role?
For your information, I use the Ultimate member so I can create user roles.
In the screen shot, it looks like he's just a member, regardless of user role.
(The screen shots are displayed in Korean, but I don't know how to correct them in English.)
Please help me.
Hi @kwisoo,
All the users except the admin, moderators and authors are displayed as members. There is no way to separate them as e.g shop Bbp spectator, Bbp moderator, Bbp participant, Translator, etc. All those roles are being displayed as members.
For example, if you select the red color for Translator and green for Bbp spectator, both of those roles will be displayed as members but will have different colors.
The options are located in Dashboard  Comments > Settings > Styling admin page, more info here: 
https://wpdiscuz.com/docs/wpdiscuz-documentation/settings/styling/#label_colors
Topic starter
26/04/2019 6:22 am
Hi @kwisoo,
Sorry, my answer below was not correct.
There is a way to change the labels. You should navigate to Dashboard > Comments > Phrases > Comment admin page and change the values of the corresponding fields.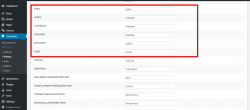 Topic starter
01/05/2019 6:02 am
Wow!
The wpDiscuz is really the best!
Thank you very much.