[Solved]

Way to allow registered users to comment but not post new topics - on one special forum only.
I've got this one forum where I don't want any new topics posted by users. But do want them to be able to comment. 
I've experimented with "Forum Accesses" and permissions on the actual forum itself, giving Guests the right to post comments. But that allows non-resisted users to post comments on all videos. I sure don't want that.
Hi @thinkerthunker,
Please follow the steps below:
1. create new forum access e.g. reply_only
2. Check the CANS at your request, just make sure the 
Can create topic is unchecked 
Can post reply is checked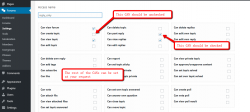 3. Attache the "reply_only" access to any of usergroups in Forum Permission section.