Paid Addons Support Forum Only
Please note, that here we only support Paid Addons issues and questions.
gVectors Support staff works from 6am to 6pm (GMT+0)
All questions related to wpForo and wpDiscuz free plugins should be asked in the corresponding plugin support forum:
[Solved]

Subscription management on Gvectors forum
Hello,
I have subscribed to quite a few topics in here. However, when I go to my profile I get "No subscription found for this member".
Pics attached.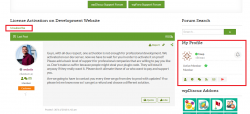 Can you help?
This topic was modified 3 weeks ago by
fawp
Posted : 20/07/2020 2:07 pm