Paid Addons Support Forum Only
Please note, that here we only support Paid Addons issues and questions.
gVectors Support staff works from 6am to 6pm (GMT+0)
All questions related to wpForo and wpDiscuz free plugins should be asked in the corresponding plugin support forum:
Swear words being censored in post...but not sidebar, forum or latest posts
Topic starter
24/04/2019 2:45 pm
I'm using the Forum Censure Pro plugin, however it only censures swear words inside the post...but not in the sidebar, latest posts or forum.
https://smallcaps.com.au/forum/funny/why-did-the-chicken-cross-the-road/#post-56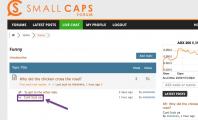 I'm going to ask this question to Forums Censure plugin's developers. I'll update the topic asap. 
We found the reason for the issue. It comes form wpForo plugin. You'll need to wait for the wpForo plugin update. The issue will be solved.
Topic starter
25/04/2019 5:49 pm
Ok thanks, are they aware or this needed update or do I need to let them know?
No thank you, I've already reported about the issue. The wpForo developers are going to fix the issue.