Paid Addons Support Forum Only
Please note, that here we only support Paid Addons issues and questions.
gVectors Support staff works from 6am to 6pm (GMT+0)
All questions related to wpForo and wpDiscuz free plugins should be asked in the corresponding plugin support forum:
[Solved]

reCAPTCHA Version 2 works partially
Hello,
If I enable "reCAPTCHA Version 2" for "Guest" comments, it work on in the "Comment subscriptions section" but not in the "posting of a comment".
Strangely, if reCAPTCHA Version 2 is enabled for "Guest" comments, it is still possible to post a comment while reCAPTCHA Version 2 is not displayed.
On the other hand, if I try to reply to a comment, reCAPTCHA Version 2 is still not displayed and I get an error message.
Sorry for my bad English language, I hope you understand what I write :/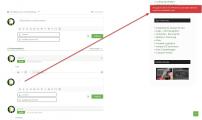 I just reactivated the function, I turned it off just before your test.
Hi @laurent,
This issue is fixed. You were using two antispam solutions for comment form. Currently, you're using WPBruiser antispam plugin, so we've added a small code to stop reCAPTCHA if the WPBruiser is enabled. If you want to use reCAPTCHA you should disable the WPBruiser  plugin.
Update:
Ok, we disabled WPBruiser option for comments end enabled reCAPTCHA. Now all works fine.