Emoticons are not displayed
Hi, I just posted something similar in the "Comment Author Info" section, the emoticons are not displayed, if it works by saying ": smile:", but does not show possible emoticons. Can you help me. Excuse me for my English. I leave pictures: page: https://gamesfull.org/entrada-de-prueba-2/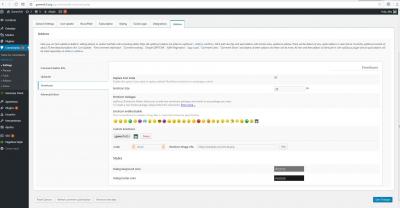 Thanks!
Hi  Alex,
Your website theme or some plugin has a hard CSS code which conflicts with other plugin pop-ups and tooltips. We're going to check and try to find the problem maker.
It would be very easy and fast if you could deactivate all other plugins, delete cache and test it. This is the easiest way to debug it.
Ok, we checked all and fond that your theme doesn't have wp_footer function with hook. Most of WordPress plugins use this hook to load front-end JS functions. This is out of WordPress theme codex and you should fix it asap. If you can't do this please send admin login details to support[at]gvectors.com email address, we'll check and add it. This also affects wpDiscuz Comment Author Info addon.