German translation does not work
Hi!
Using the wpForo Private Messages Addon, I tried to translate the wpforo_pm.pot file to german using the Poedit editor.
After the translation I saved the file as wpforo_pm-de_DE.po and uploaded it with the file wpforo_pm-de_DE.mo the the directory wpforo-private-messages/languages. =>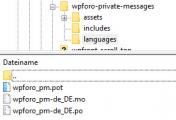 But the translation does not work.
The language in WordPress backend is also set to German.
What can I do?
Thanks and best regards,
Christian
There is no need to copy those using PoEdit, copy phrases from wpforo_de_DE.po to wpforo_de_DE.po file.
Don't forget to delete phrase cache from Dashboard > Forums >  Dashboard admin page.
It now works, great!
Thanks a lot!
One further question: Is it possible to deactivate the search function, when adding new users to conversations?
Because of the topic, my forum has to be 100 % anonymous and users should not see a complete list of all other users.
In private message mode, when adding new users to a conversion and searching for them in the search field, users are automatically suggested by the system because of the first letters.
Here you can see what I mean: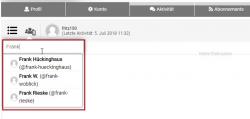 Can I deactivate this function, maybe directly through the program code?
A user should only can add further users by adding the exakt user name, without any suggestions oder member lists.
Is that possible?
Thanks and best regards,
Christian
Hi obmann,
I'm sorry, but it is not possible. We'll add this feature in our to-do list for future releases.