Hello. I am using the wpForo Blog Cross Posting and Embeds addons. When a YouTube link is placed in the cross-posting CUSTOM content, the embed is blank when seeing with my iPhone. Please check the attached 2 screenshots.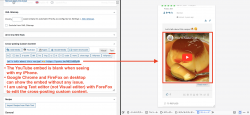 Google Chrome and Firefox on my MacBook Pro can show the embed. I am using the Text editor (not Visual editor) on Firefox to edit the cross-posting custom content.
Could you reproduce this issue on your side? I will privately send the link of my production site later. I found a similar topic but my issue happens with the Blog Cross Posting addon.
https://gvectors.com/forum/wpforo-embeds/wpforo-auto-embed-addon-not-showing-youtube-vids-on-my-iphone-10/
Thank you for your support.