Youtube video shows up twice and messes up the post
Hello @Astghik! I'll send you a temporary user ID and pw as forum access is for members only.  Thanks!
Hi @riversky,
The issue has relation neither wpForo nor wpForo embeds addon. It seems some other plugins or your current active theme changes the structures. There are some tags, that are open and not closed. Please see the screenshot: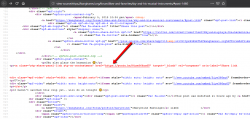 To find a problem maker plugin/theme, please deactivate plugins one by one and check after each deactivation. Also, switch to some default theme (it may be a theme conflict too).
Please keep the cache plugin deactivated during this process.