Paid Addons Support Forum Only
Please note, that here we only support Paid Addons issues and questions.
gVectors Support staff works from 6am to 6pm (GMT+0)
All questions related to wpForo and wpDiscuz free plugins should be asked in the corresponding plugin support forum:
Many users unable to attach images
Many users in my forum at  https://rplstoday.com  are currently complaining about attachments not attaching. They are able to upload an image, but when they click "Insert into post", there is a "working" message in the top right corner that never goes away and the attachment is never inserted into the post. Even after waiting several minutes. I've attached a screenshot from a user right after he clicked the "Insert into post" button, plus a screen shot from a user who looked at the console errors for me. I'm not having the problem, so my console shows no errors.
Thanks for your help!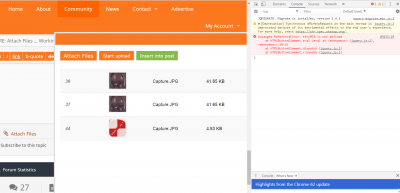 Also, I have reports from users using various versions of Windows, iOS and even Ubuntu, using Chrome, Firefox, Edge and Safari that all have the same problem. I'm having a very hard time narrowing down the issue.
gVectors support continues to amaze! Thanks, Tom, for the quick response and fix. 😀