Many users unable to attach images
Many users in my forum at  https://rplstoday.com  are currently complaining about attachments not attaching. They are able to upload an image, but when they click "Insert into post", there is a "working" message in the top right corner that never goes away and the attachment is never inserted into the post. Even after waiting several minutes. I've attached a screenshot from a user right after he clicked the "Insert into post" button, plus a screen shot from a user who looked at the console errors for me. I'm not having the problem, so my console shows no errors.
Thanks for your help!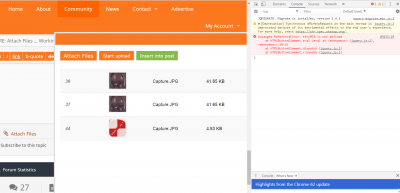 gVectors support continues to amaze! Thanks, Tom, for the quick response and fix. 😀