Paid Addons Support Forum Only
Please note, that here we only support Paid Addons issues and questions.
gVectors Support staff works from 6am to 6pm (GMT+0)
All questions related to wpForo and wpDiscuz free plugins should be asked in the corresponding plugin support forum:
[Solved]

Change name of the tab
Topic starter
11/09/2019 3:09 pm
Hi!
I would like to change the name of the tab (from Discussions to support forum) but I cant find a way to do it.
Can you help please?
Pedro
Hi @perigonza,
The phrase is located on the Dashboard > WooDiscuz > Phrases > General Phrases admin page.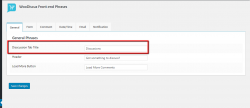 Topic starter
11/09/2019 3:26 pm
@astghik
Thanks a lot! that was fast and to the point, perfect support!
Pedro