Paid Addons Support Forum Only
Please note, that here we only support Paid Addons issues and questions.
gVectors Support staff works from 6am to 6pm (GMT+0)
All questions related to wpForo and wpDiscuz free plugins should be asked in the corresponding plugin support forum:
First Name and Last Name
Subscription default form accepts only a single name. I want the name in two parts - First Name and Last Name. How can I do this?
Hi @dhatul,
wpDiscuz subscription form doesn't have the first name field. Could you please specify what exactly do you mean?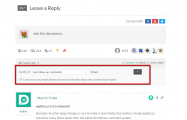 Hi Astghik,
I know that it does not exist currently. But can it be done? If so, how?
I want the name to be input in two parts, first name and last name.
Hi @dhatul,
I'm really sorry, but there is no way to add those fields in the subscription form.