Paid Addons Support Forum Only
Please note, that here we only support Paid Addons issues and questions.
gVectors Support staff works from 6am to 6pm (GMT+0)
All questions related to wpForo and wpDiscuz free plugins should be asked in the corresponding plugin support forum:
Topic starter
27/05/2019 9:22 pm
Hi there, every time I click on the link I get in the notification email for new post, or I click on submit or I click on the thread link in the widget, i get this
If I browse in incognito mode, it doesn't happen.
If I clear cookie and cache it works for a couple of clicks and then again error 502.
Wordpress works fine.
Can you help? Thanks
Hi @barbarabax,
Thank you for using wpForo and for contacting us. 
If you're not using the latest wpForo version, please update it to the latest one (v. 1.6.1).
This is just a cookie conflict. You should either reduce the cookie memory size or disciple the cookie from Dashboard > Forums > Tools > Privacy & Rules admin page.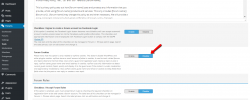 Topic starter
29/05/2019 11:18 am
Hi, I don't know how to disable cookie memory size so I disabled cookies as you suggested and seems to work. Thanks!