Big BUG with custom fields don't save the data !!
 Hello
I have a bug with the plugin user custom fields that does not save the data. I emptied, uninstalled and reinstalled the plugin but the problem is still present. I do not use a special theme and my php configuration is functional.
Can you tell me how to fix the bug? I bought a lot of plugin including this one and I realize that the work does not quite match what I bought.
I hope you will give a temporary solution before releasing a new plugin update !!
Waiting to hear from you
Yet it's easy to understand. These are fields added with the paid addon. These fields appear well in frontend in the profile of a user whatever his role. subscriber, administrator etc.
The problem is when I want to save new data (frontend) and after registration, the fields remain empty! I can not be clearer than that. Please correct the bug and tell me what does not work. MP
Ok, this is already under active checking and fixing. We're releasing new version very soon. in meantime please check the wpForo profile table and make sure the addon installation was successful. Open Hosting Service cPanel > phpMyAdmin database manager and find the _wpforo_profiles table. Then click on Structure Tab and check the "fields" column. If this doesn't exist just let us know: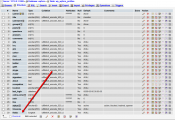 Hello,
Have you a news for the update ? This bug is very restrictive and we would have liked to see him correct more quickly. I noticed on another post dating from 4 days ago that you were going to fix the bug.  I do not think that a simple correction takes so much time! thank you in advance. 
I remind you that I bought the addon and because of this, we must have a functional service. I understand that it can have bugs on the forum but it is free. On the other hand, the addons are paying and you must first solve these problems first.
Thanks for your understanding
MP