-1) here Members is translated in F - membres,
but not in the forum,
-2) news users can see Members, but they should not be able.
where can I change it ?
in wp parameter - general - everyone can subscribe,  I have try many-times on-off, but no result...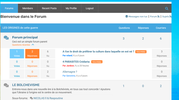 -3) in login is written  SPEUDO,  I would like  Email-adresse  
where can I change I ?