Paid Addons Support Forum Only
Please note, that here we only support Paid Addons issues and questions.
gVectors Support staff works from 6am to 6pm (GMT+0)
All questions related to wpForo and wpDiscuz free plugins should be asked in the corresponding plugin support forum:
Not working on custom post types by default.
The media uploader is not working custom post-types. 
Eg. - 
The default implementation should be that it works everywhere where wpdiscuz comment system is available. 
An add-on could be a feature to enable/disable uploader on specific custom-post types. This is something that is not required though. 
Hi @cdadmin,
Please register some new user and sent the login details to info[at]gvectors.com email address to allow us to check it. 
Please use the google , fb login by clicking on the top right login button. 
ok @cdadmin,
First of all Please navigate to Dashboard > Comments >  Settings > Addons > Uploader tab make sure:
"Post types supports uploading" is enabled for the current post type. 
"User roles allowed to upload files" is also enabled for the User roles.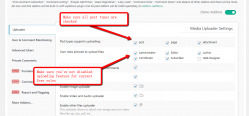 I also please try to deactivate the Jetpack plugin and check again, it also may cause the issue.