Hello,
There are people on my site who publish vertical photos in the comments, and thanks to you, visually it becomes smaller and when you click on it, you see them in full.
I would like to do the same for photos taken horizontally.
Whether vertical and horizontal, I would like the photos to be displayed visually in the comment space in a 4/3 ratio (around) 
And on top of that. I would like these images to take up more space on the WPdiscuz plugin. 
Exemple thats I would try to have: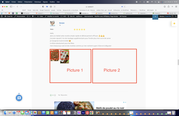 Thanks you a lot four your help