[Sticky]

wpDiscuz comment form is missing
Please update to wpDiscuz 4, then navigate to Dashboard > Comments > Forms, edit the default form and set it for all post types you want.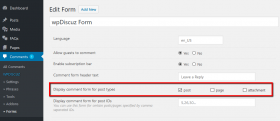 Edited: 2 months ago
I've literally tried every solution given out in this thread and the only form I can see is the Wordpress one.
To make matter worse, when I use Super Socializer as the social login, it removes the WP form entirely so there's nothing there at all.
P.S. - I'm using the Herald theme.
Edited: 1 month ago
Some themes don't use <?php comments_template() ?> WordPress template function, thus wpDiscuz can't be loaded. You should ask theme support to make sure they use this function in comment section.
Also please navigate to Dashboard > Comments > Forms and edit the Default Form. Then make sure this form is enabled for all post types and save it.
Im using the same theme Herald by Meks. I ran into the same problem as you. Once i enabled the form to work with 'post' the discussion module started working correctly, it replaced the standard WP comment with wpDiscuz
I hope this helps.